In certain parts of the process industry it is very important that product contamination is prevented in the process. When dealing with powders, there is also always a danger of dust explosions. In order to protect public health and ensure safe working conditions, governments have drawn up official legislation for systems and components. Moreover, private organisations have created specifi cations components should comply with in order to meet the required branch or system-specific requirements. In order to meet these laws and specifications, DMN-WESTINGHOUSE has had a number of rotary valves and diverter valves tested and approved, all of which have been found either to comply with USDA Dairy requirements, be pressure shock-resistant to 10 bar, flameproof, ATEX Directive 2014/34/EU compliant.
With regards to the USDA (United States Department of Agriculture), our AL, BL, AML and SAL rotary valves are tested and certified USDA Dairy Accepted. This also applies to our 2- and 3-TDV tube diverters, M-TDV multiport diverter and GPD gravity plug diverter. This means that these components meet the high standards that apply in the US food, dairy, pet food and other related industries.
Process systems and components often have to be able to withstand explosions and prevent fires from passing the component. This has resulted in official European legislation, known as the ATEX 2014/34/EU Directive. All DMN rotary valves and diverter valves are also available in ATEX 2014/34/EU compliant versions.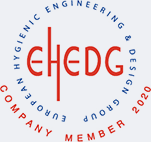 The European regulation EC1935/2004 applies to all food contact materials. With regard to the use of these materials as parts in our components, we can supply a declaration of compliance and appropriate documentation that demonstrate compliance to the EC 1935/2004 regulation. The materials used also conform to FDA regulations with regard to food contact.