Don't compromise on safety!
All rotary valves with ATEX Autonomous Protective System (Autonomous Protective System = APS) certification are now certified up to Dust Class St.2 (K.st. ≤272 bar.m/s) and some even up to Dust Class St.3 (K.st. ≤380 bar.m/s). Next to the improvement in the certification of the Dust Class, our complete range of rotary valves and diverters is certified to the latest ATEX Equipment (Eq) standard, ensuring high quality valves.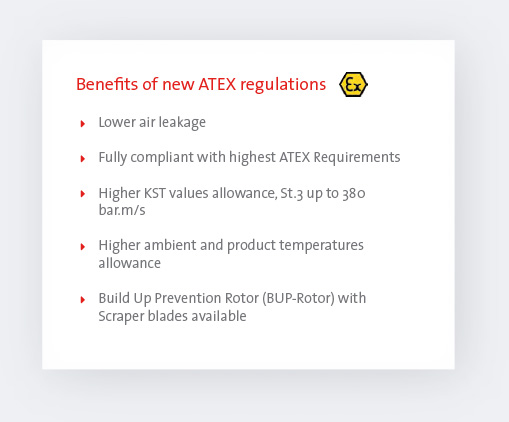 Rotor design
We will supply the ATEX flameproof Rotary Valves (APS) with a 10-bladed rotor and an explosion pressure resistance up to 10 bar. This rotor comes with the following advantages compared to the old certification:
The 10-bladed rotor allows for larger clearances, up to 0.40 mm and subsequent higher temperatures for the products to be handled and subsequent a broader range of applications.
The 10-bladed rotor also ensures a better sealing against air-leakage over the valve in the system.
All valves with DAIRY executions are equipped with DAIBI rotors, which are chamfered all the way down to the shaft to minimise the friction area between the side of the rotor and the end cover of the body.
Also EHEDG and WD executions are now certified as APS. 
Next to the higher certification of the EHEDG and WD executions, DMN-WESTINGHOUSE now also offers a BUP (Build Up Prevention) rotor option as an Autonomous Protective System St.2 (K.st value 272 bar.m/s). The main characteristics of this BUP rotor are the following:
This rotor is specially developed for applications where product tends to build up between body / end cover and rotor.
The BUP rotor is a modified 9-bladed rotor with adjustable blades including 2 scraper blades and will still be certified as Autonomous Protective System up to 3 bar.
Vent Holes
Vent holes are available on the AL and BL-series APS valves up to size 350. Be aware that these APS rotary valves will not block a possible explosion that might exit or enter the vent holes. The end user is responsible for proper explosion isolation beyond the vent holes.
ATEX Criteria
In the past years a lot of research has been done into dust explosions and specifically into which dust properties are important for explosion isolation. It has turned out that apart from the commonly known ATEX APS criteria K.st value and system design pressure, the MESG (Maximum Experimental Safe gap) is also an important criterium, which is a function of MIT (Minimum Ignition Temperature) and the MIE (Minimum Ignition Energy). With respect to the maximum explosion pressure it should be noted that some values may be increased, like clearances and Kst, when allowing for an explosion pressure of 3 bar only, which is an accepted design pressure like 10 bar. 
This means that the three main criteria for ATEX APS valves are:
K.st value [bar.m/s] (previously known as Dust class St.1, St.2 and St.3).
The system design pressure [bar], which will be checked with the maximum explosion pressure (Pmax) of the APS valve.
The MESG [mm] value, calculated from the MIE (mJ) and the MIT (°C) values.
In other words, a product to be handled with a low MIT can still be accepted for ATEX APS, if it has a high MIE (and vice versa). 
Note: the MESG is measured in mm, but it is not correlated to the rotor clearance.
The new ATEX CHECKLIST asks information about these 3 criteria. In case (some of) this information is unavailable, DMN-WESTINGHOUSE will select a suitable ATEX version of the valve, and request the client to sign for approval, so the valve will always fulfil the necessary requirements.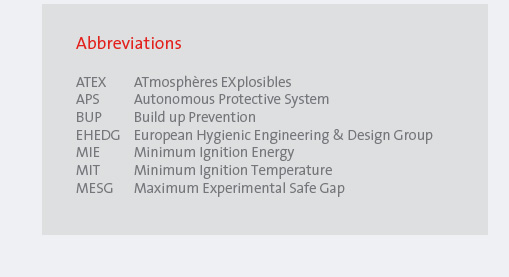 All ATEX certified rotary valves come including certifications and final inspection reports, as well as a dedicated name plate, to ensure the highest quality.
All ATEX APS certified rotary valves have a reinforced rotor construction, to meet the most stringent ATEX APS requirements.